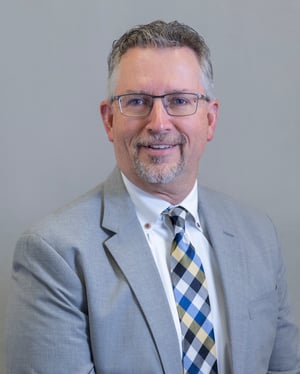 Transition: "a period or phase in which a change or shift is happening"
By Dr. Steve Faith, OD
I think we can all agree that the term "transition" is currently relevant to many aspects of our personal lives and professional practices. Well, the same holds true for ABB One Bill/Primary Eyecare Network.
As an organization started in 1984 by a group of progressive and fiercely independent optometrists in Northern California, Primary Eyecare Network (PEN) has evolved through several iterations in the last 36 years. And as the old proverb states, "the more things change, the more they stay the same." ABB OneBill/PEN has not changed its goals or role with the profession and support of professional optometry, it is in transition to a more contemporary structure under ABB's umbrella.
Our hope is that the leverage of a larger group of corporate partners and program supporters, ABB OneBill/PEN will continue to flourish and help professional optometry to expand and progress. With that being said, you will be hearing about and start to notice an increase in the support programs available not just to long term PEN members but to all of ABB's professional accounts and clients. These programs will include business education, partner vendor support programs, staff support and education for practices and sometimes even "out of the box" ideas that you might not even knew you could utilize or benefit.
From PEN's beginnings, the professional advisory board has always designated a portion of the yearly PEN fees paid by members to a PIO fund. The Preserving Independent Optometry (PIO) fund was utilized to establish unique programs and business CE that was not ordinarily available in other venues.
PEN was first organization to coordinate small group regional meetings in 1989 that helped similar sized practices collaborate on those issues that were a factor for the independent optometric business owner.
It was the first group to organize a meeting in 2002 to solely manage contemporary business ideas in integrating newer graduates into independent practice. The biannual PIO meeting continued through 2016.
The PEN Financial Information Technique program (FIT) was the first in the country in 1992 to collect and coordinate practice benchmarks and metrics so a practitioner was able to see how they and other members were doing from a business perspective.
PEN initiated a consolidated billing statement for practices so that a member could pay one bill with one statement instead of multiple vendor invoices. That program is now termed ABB OneBill and is still active today.
At the time in 1984, PEN was the only group that required its members to be active and support their state optometric association and local optometric society to be considered for membership.
And PEN used a portion of the PIO funds to support scope expansion and political candidates when our state and national associations requested such financial support funding.
With the transition to a new structure, the PIO funds are not as integral to the growth and success of PEN or its support of Professional Optometry as a subsidiary of ABB. As a result of this transition the current Advisory Board has agreed to utilize the remaining PIO funds and establish a Preserving Professional Optometry Endowment at both the Southern California College of Optometry and the UC Berkeley School of Optometry.
These two optometry schools were instrumental in the growth and support of PEN in its early years and the original advisory board members were all graduates, clinical faculty members and huge supporters of their respective alma maters.
We feel it is fitting and impactful to take what those original seven practices did in 1984 and perpetuate their vision into the future graduates and professional practice business owners from these optometry schools.
It is also our hope that the two endowments will encourage further donations to these funds from our professional colleagues, partner vendors and supporters of professional optometry. The hope being that the original goal of the PIO funds established in the 1980's will grow and develop into a perpetual funding vehicle for the growth and expansion of professional optometry long into the future.
As the founder of PEN, Dr. Len Osias would always encourage our advisory board and PEN staff to improve and expand our programs to the benefit of PEN's independent optometric members. As he would say to us in the early days of PEN, "That was great. Now, let's see if we can make it better!"
With the new ABB OneBill/PEN organization moving forward, we are truly doing just that Dr. Osias.