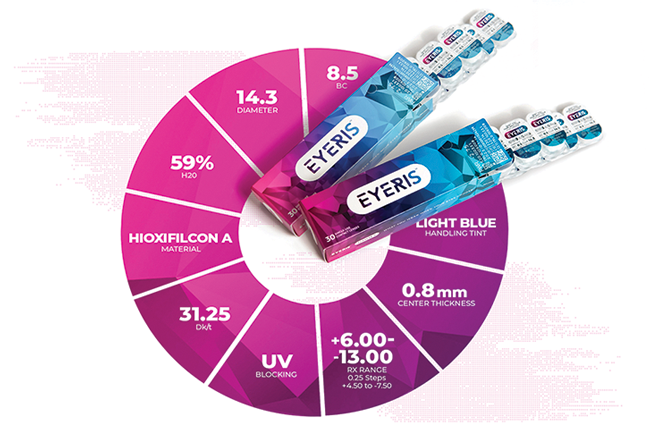 Interested in a Fit Set?
First schedule your appointment with an Eyeris representative by choosing an appointment time.
If you are all set to order click here and use code ABB-WBLP.
All Day Comfort
EYERIS lenses provide all day comfort because of their soft material and advanced cross-linking design. The lenses bathe in a unique blend of time-released emollients keeping them softer all day long!
EYERIS DOES
Place patient eye health FIRST
Provide doctors the highest margin percentage in the industry
Offer consumer friendly online ordering AND you keep the same margin!
Offer marketing support and a Patient Finder tool, to help you connect patients interested in EYERIS
EYERIS DOES NOT
Mess with any kind of REBATES
Sell to online retailers

It's a great lens and patients love it! Very happy to be one of the lucky ones to fit and prescribe EYERIS.
Dr. Ryan Palmer, Blair Eye Associates
They're the best contacts I've ever tried and I've tried and fit them all, over the course of my career.
Dr. David Montgomery, Tennessee Eye Care